6 Mouth Blown Blue Art Glass Vase Blue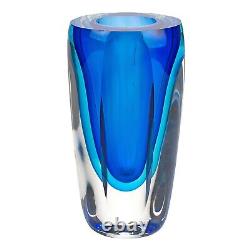 Display your exquisite flowers and distinguish your space with this appealing vase. This vase is made of high grade glass and will be with you for a long time. Additionally, its captivating green color and enthralling style will enhance and supplement your shelves and surfaces and augment the aesthetic of your rooms. There is no better ornament for your rooms than this vase. Its components are all natural and environmentally sustainable. Its height is 6", and its width is 3.5". Its depth is 3.5, and it weighs 5 pounds.
This vase has uniquely layered, thick walled art glass. Colors may also vary from piece to piece, making each one a unique work of art. It's both visually alluring and functional, and would make an admirable gift as well.

---