Blue Glass Vintage Greek Amphora Vase, hand-carved nickel silver total overlay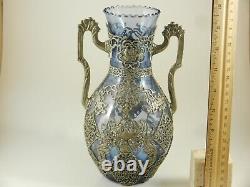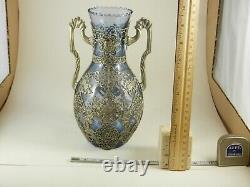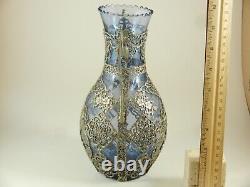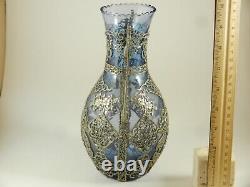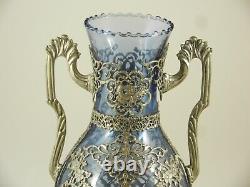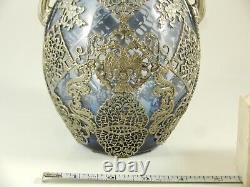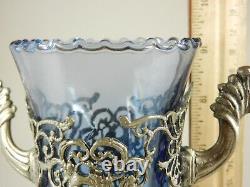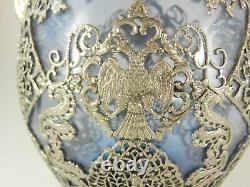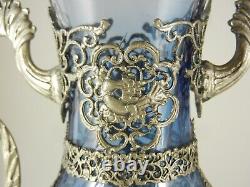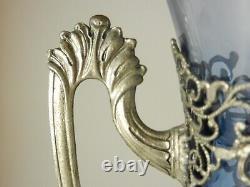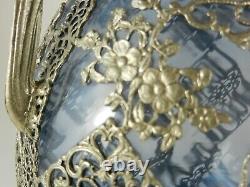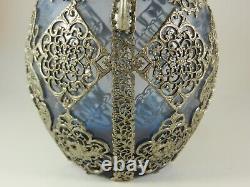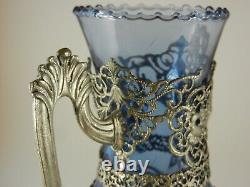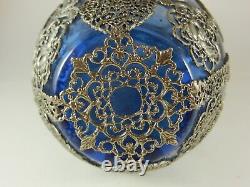 Blue Glass Vintage Greek Amphora Vase, hand-carved nickel silver total overlay. This is truly spectacular piece, and more specifically, a vintage amphora vase, from Greece, from the 1960's. It is completely handmade with the ancient art of glass-blowing, in a very unique transparent blue color, while at the same time it is FULLY hand-embellished with some extraordinary, hand-carved nickel silver details, featuring the legendary double-headed eagle of Byzantium as well as some exquisite flower details all around its diameter. It is the ultimate showstopper for any room and any occasion. The attention to detail pattern is all over the place as the colors, the texture and the high-quality composition looks like it came straight out of some royal fairytale.
Unfortunately, such unique pieces are really hard to describe in just a few lines. Their impeccable beauty along with their unique artistry, are absolutely priceless. One photo is worth one thousand words, so please take a closer look at its outstanding beauty! Hand-made in Athens, Greece approximately in 1960's.
The condition of both the glass, and the total hand-made silver overlay is Pristine, as it has been in storage, since it was brought home from Greece. If you were looking for a truly unique addition, this is a one-of-a-kind masterpiece! Width: 5 ¼ (across the handles). Rim opening diameter: 2 7/8. In heraldry, the double-headed eagle is a charge associated with the concept of Empire.
Most modern uses of the symbol are associated with its use by the Roman Empire, whose use represented the Empire's dominion over the Near. The symbol is actually much older.
The eagle has long been a symbol of power and dominion. It was adopted in the Holy Roman Empire, and in Orthodox principalities of Serbia and Russia. Nickel silver, German silver, Nickel brass, is a copper alloy with nickel and often zinc.
The usual formulation is 60% copper, 20% nickel and 20% zinc. Nickel silver is named due to its silvery appearance, but it contains no elemental silver unless plated. The name "German silver" refers to its development by 19th-century German metalworkers from the Chinese alloy known as cupronickel. Please feel free to ask questions! Please understand that if this is a VINTAGE and/or USED ITEM, it MAY show wear from age and use.
There MAY BE fading, scuffs, marks, nicks, paint/detail loss, etc. Please review ALL the photos and information in the listing again before purchasing. Please keep in mind that if this is a vintage item, vintage items are old.
In some cases, extremely old, so they may not always function as new! We do not test each item for function. It is certainly capable of being used, but you are at your own risk if you plan to put ANY antique into REGULAR service. Color Notes: We strive to get the best photos of the actual color, but it's possible that the color can vary slightly from the color in the photos due to lighting and computer monitors. Regardless of the noted condition, you should plan to clean all items after receiving them.
If garage sales interest you, then please visit and follow my Beachday Store (like being on my driveway) to see a wide variety of additional various (plus many men's and women's Big & Tall) items of interest.

---